China HDPE Pipe Fittings Manufacturer
We are a professional plastic valve, pipe, and pipe fittings manufacturer. Our factory mainly produced various PVC ball valves, pipes, and fittings for 15 years. HDPE pipe fittings are one of our main products. There are many types of our HDPE pipe and fittings, such as: HDPE water supply pipes, HDPE gas pipes, HDPE drainage pipes, HDPE double wall corrugated pipes, HDPE butt fusion fittings, HDPE electrofusion fittings, HDPE mining pipes and more. We welcome you to contact us for more detailed product information and look forward to a chance to cooperate with you.


HDPE Tee Information
Product Name

HDPE Tee

Color

Black or Customized

Main Material

HDPE

Pipe Life Span

50 Years

Size

25mm - 500mm

Packing

Inside Plastic Bags, Outside Cartons

Main Market

Africa, Southeast Asia, The Middle East, America

Use

Water Supply, Drainage, Gas, Dredging

Connection

Hot-Melt Welding, Electrofusion

Origin

Ningbo, Zhejiang, China

Customized Support

OEM, ODM

Port

Ningbo/Shanghai

Processing Service

Moulding, Cutting

Lead Time

25-35 Days

Certificate

ISO, CE

Sample

Available
HDPE Pipe Fittings Dimensions

HDPE Tee Features
1. HDPE tee can effectively prevent drinking water pollution because it is sanitary, non-toxic, devoid of heavy metals and additives, difficult to scale and bacterial growth.
2. HDPE tee has a high pressure bearing capacity and outstanding flexibility.
3. The HDPE pipe and fitting's connection technique is very versatile and convenient. Depending on the situation, several connection techniques, such as socket fusion, butt fusion, electric fusion, flange, and so forth, can be utilized. Additionally, because of its strong connection, the pipeline can be guaranteed not to leak.
4. HDPE pipe and fitting is highly resistant to corrosion and chemicals. Additionally, the pipe and fitting is given carbon black during construction, which significantly reduces the issue of aging brought on by ultraviolet light and extends its lifespan.
We can guarantee the service life of our HDPE pipe and fitting up to 50 years.
5. HDPE pipe is inexpensive, light, and simple to install.


HDPE Pipe Fittings Application Field
1. Drinking water piping system
2. Agriculture and garden irrigation
3. Sewage discharge
4. Desalination and aquaculture projects
5. Raw material conveying
6. Infrastructure, construction projects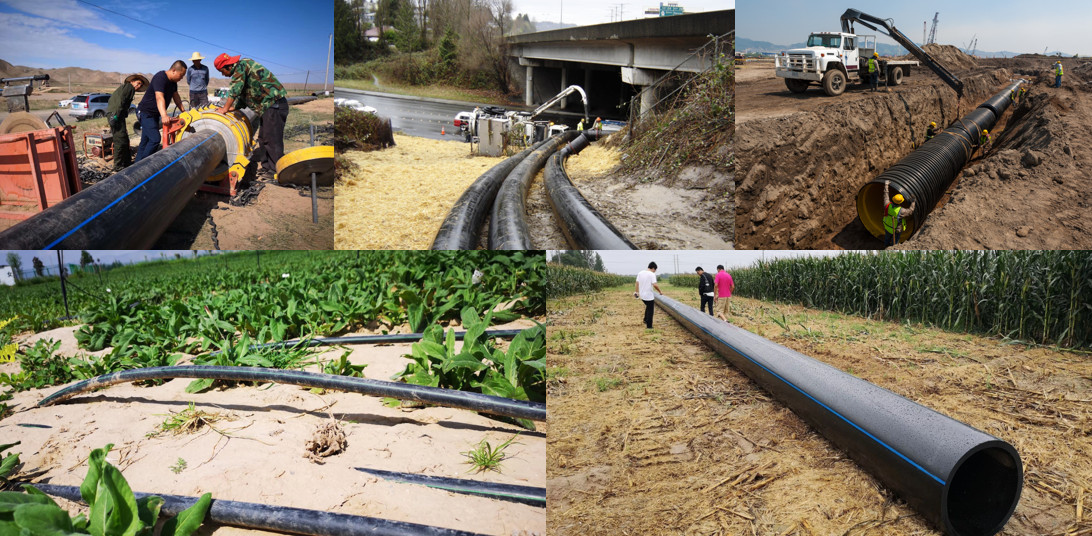 Our Certifications


FAQ
1. Are you a manufacturer or a trading company?
We are the manufacturer and have our own factory.
2. What's your price?
According to the different products, materials, sizes, and even MOQ, our prices are different. Anyway, our price is very competitive. Please contact me if you want to get the latest price list.
3. What product does your company produce?
we mainly manufacture kinds of plastic valve and plastic pipe, plastic fittings. We also developing group irrigation products to support sales. In addition, we will open new mold and customized service according to customers' market needs.
4. Do you accept OEM?
Yes, we accept OEM. We will engrave trademarks, laser print trademarks, and provide color box packaging, color box design, packaging design, pallet service, and product material formulas according to customer needs. The product material formula can also be replaced according to different usage requirements.
5. Can you provide related documents?
Yes, we can provide certificate files if you need them.
6. How long is your lead time?
The range of our lead time is 25-35 days. It depends on your requirement.
7. Do you have a customized service?
Yes, I will customize products according to customer needs.
8. Can I be your distributor?
Yes, we are very glad to cooperate with customers all over the world.
9. Where is your company's address?
Our company is located in the Ningbo Zhejiang Province, China.
10. How can I contact you?
You can send us an email at any time to ask any questions, we will reply to you in the shortest possible time.
Email: sales@nbqxhy.com
Phone: +0574-88209527
WhatsApp/WeChat: +86-18867873336