Plastic Ball Valve Manufacturer: Our PVC two pieces ball valve has two types of handle: stainless steel handle and plastic handle. The main raw material of the ball valve is PVC, so the inside is very smooth, corrosion-resistant, and has no water leakage.
1. Product Information
As a professional plastic valve manufacturer, We guarantee that our plastic ball valve products are of first-class quality, and all products, whether it is ball valves, butterfly valves, foot valves, check valves, etc., follow the same standard production and quality inspection procedures. Therefore, not only the product quality is high, but the defective rate is very low.
| | | | | |
| --- | --- | --- | --- | --- |
| Product Name | Two Pieces Ball Valve | | Color | Customized |
| Main Material | PVC | | Place of Origin | Zhejiang, China |
| Size | 1/2" to 4" | | Packing | Carton, Polybag, Color Box, or Customized |
| Power | Manual | | Application | Swimming Pool, Construction Project, Agricultural Irrigation |
| End Connection | Socket/Threaded | | Port | Ningbo/Shanghai |
| Customized Support | OEM, ODM | | Lead Time | 25-50 Days |
| Standard | CNS/JIS/DIN/BS/ANSI/NPT/BSPT | | Sample | Free |
| Certificate | ISO9001,SGS, GMC, CNAS | | Logo | Printed or Customized |
2. Product Parameters
a. two pieces ball valve with SS handle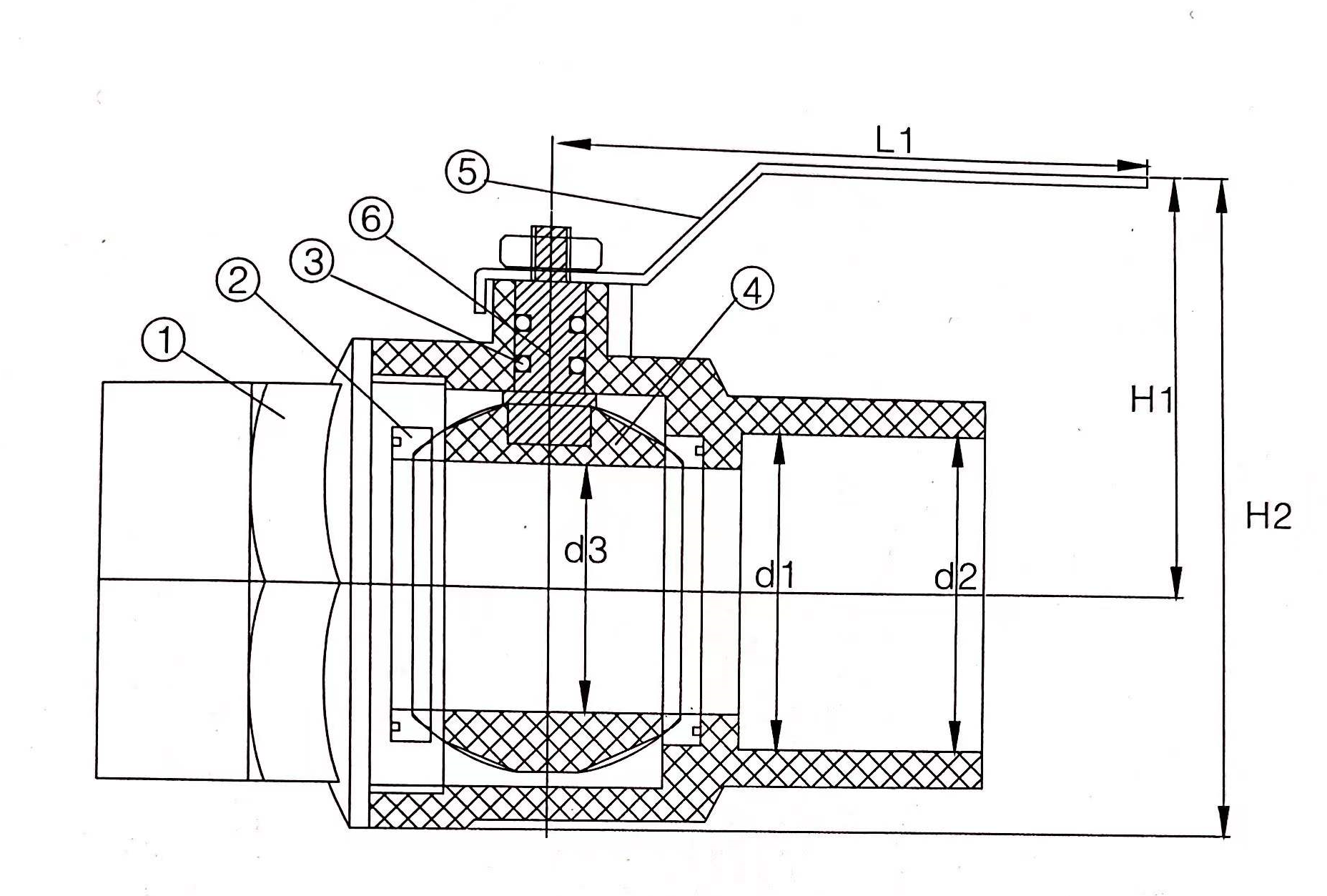 | | | | |
| --- | --- | --- | --- |
| NO. | PART | MATERIAL | QTY |
| 1 | Body | UPVC, CPVC | 1 |
| 2 | Seat Seal | TPE, TPV, TPO | 2 |
| 3 | Stem O-Ring | EPDM,FPM (NBR) | 2 |
| 4 | Ball | UPVC, CPVC | 1 |
| 5 | Handle | Stainless steel | 1 |
| 6 | Stem | UPVC, CPVC | 1 |
| 7 | Bolt | Stainless steel, Iron | 1 |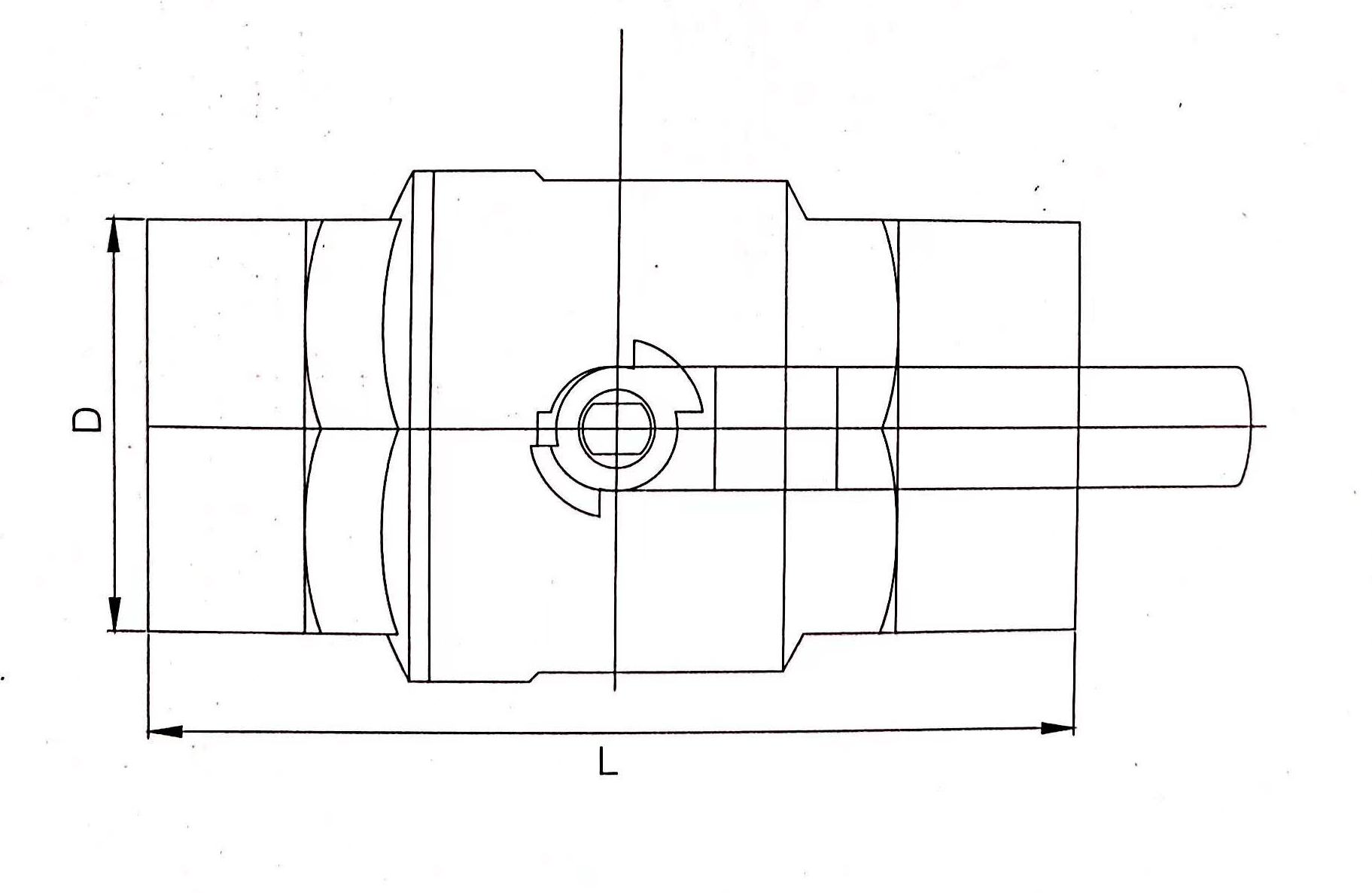 | | | | | | |
| --- | --- | --- | --- | --- | --- |
| SIZE | d3 | D | L | L1 | H2 |
| 1/2" | 15 | 29 | 93 | 80 | 54.5 |
| 3/4" | 20 | 33.2 | 100 | 80 | 61 |
| 1" | 25 | 42.1 | 114.8 | 82 | 76 |
| 1-1/4" | 29 | 54 | 128 | 110.6 | 90.4 |
| 1-1/2" | 38 | 61 | 139.4 | 113 | 103.5 |
| 2" | 47 | 74.6 | 169 | 121.5 | 122.4 |
| 2-1/2" | 57 | 91 | 197 | 140.8 | 144 |
| 3" | 68 | 105.6 | 251 | 192 | 176 |
| 4" | 86 | 135 | 282 | 214 | 196 |
b. two pieces ball valve with plastic handle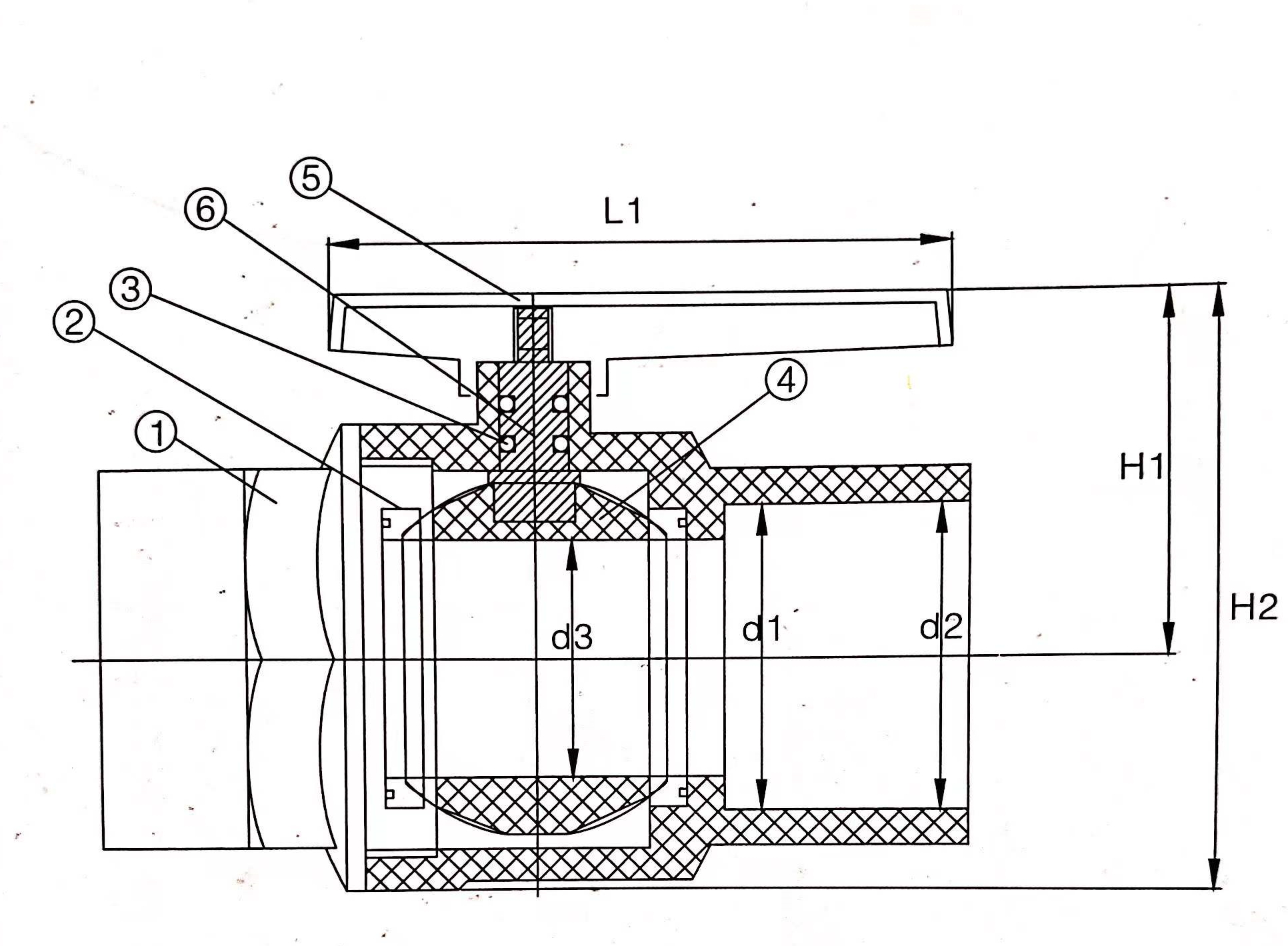 | | | | |
| --- | --- | --- | --- |
| NO. | PART | MATERIAL | QTY |
| 1 | Body | UPVC, CPVC | 1 |
| 2 | Seat Seal | TPE, TPV, TPO | 2 |
| 3 | Stem O-Ring | EPDM,FPM (NBR) | 2 |
| 4 | Ball | UPVC, CPVC | 1 |
| 5 | Handle | PVC, ABS | 1 |
| 6 | Stem | UPVC, CPVC, POM | 1 |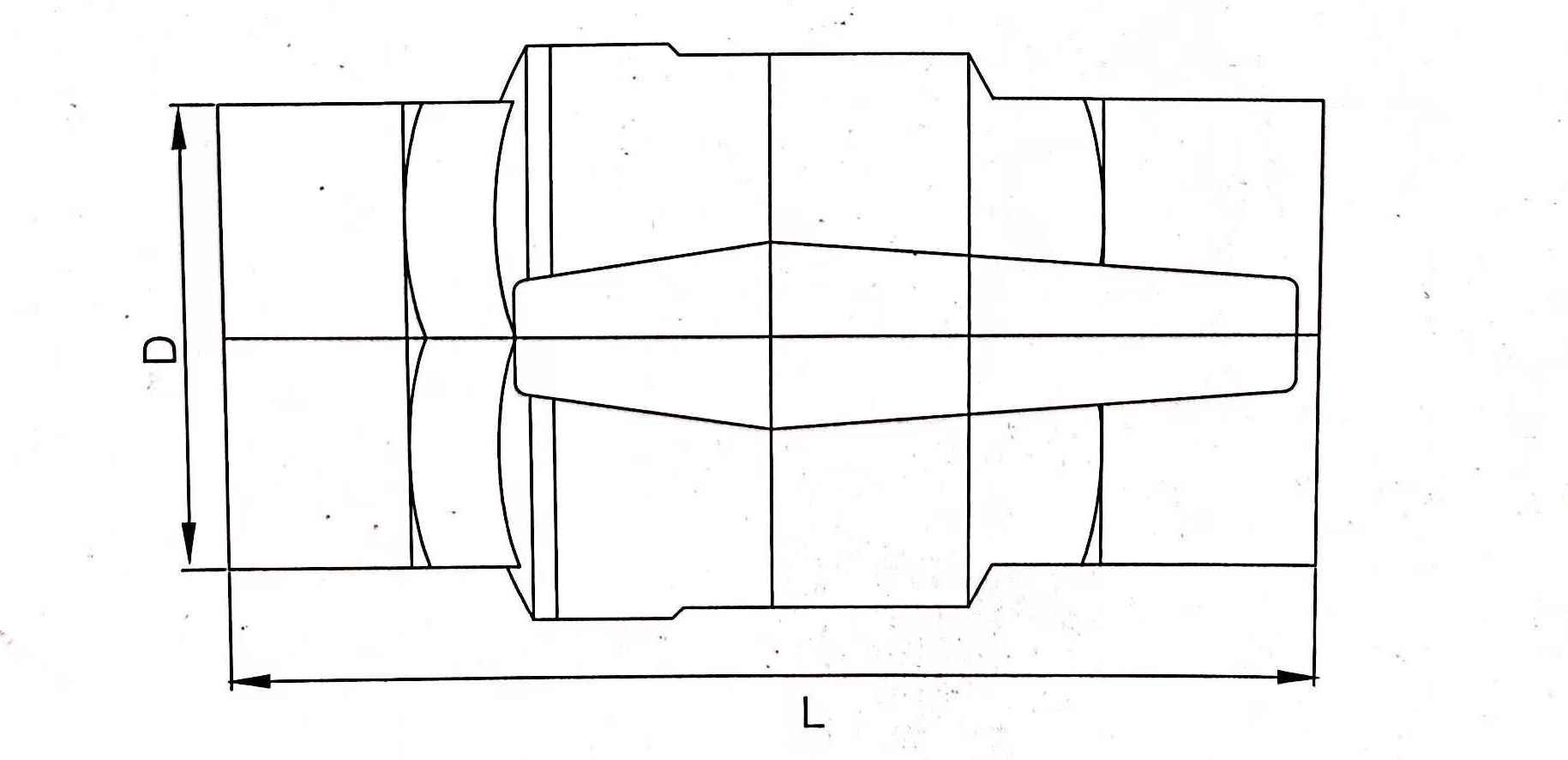 | | | | | | |
| --- | --- | --- | --- | --- | --- |
| SIZE | d3 | D | L | L1 | H2 |
| 1/2" | 15 | 29 | 93 | 78.5 | 62.5 |
| 3/4" | 20 | 33.2 | 100 | 78.5 | 68 |
| 1" | 25 | 42.1 | 114.8 | 85.1 | 84.3 |
| 1-1/4" | 29 | 54 | 128 | 94.1 | 95.7 |
| 1-1/2" | 38 | 61 | 139.4 | 102.6 | 107.4 |
| 2" | 47 | 74.6 | 169 | 127.9 | 122 |
3. Product Packaging
We use high-quality kraft cartons for packaging. Our cartons are very strong and can protect the ball valve from damage during transportation. In addition, for the sake of privacy policy, we do not show color boxes here, but we can provide you with this service.