China Plastic Pipe Fittings Manufacturer
We are a Chinese professional plastic pipe fittings manufacturer and supplier. We can supply many different types of pipe fittings, such as PVC DIN water supply fittings, PVC schedule40/80 fittings, PVC BSPT thread fittings, PVC Drain fittings, PP compression fittings, PPH fittings, PPR fittings, and more.
Our factory has many years of experience in manufacturing plastic valves and pipe fittings. We strictly control product quality, from raw materials, production process, sampling inspection, warehousing inspection, delivery inspection, and other aspects to control product quality to ensure that the vital interests of customers are not lost.
Besides, we know that different projects have different needs for plastic pipe fittings, so we provide a full range of customized services to meet your special needs.
You are welcome to contact our experts: ⇨ sales@nbqxhy.com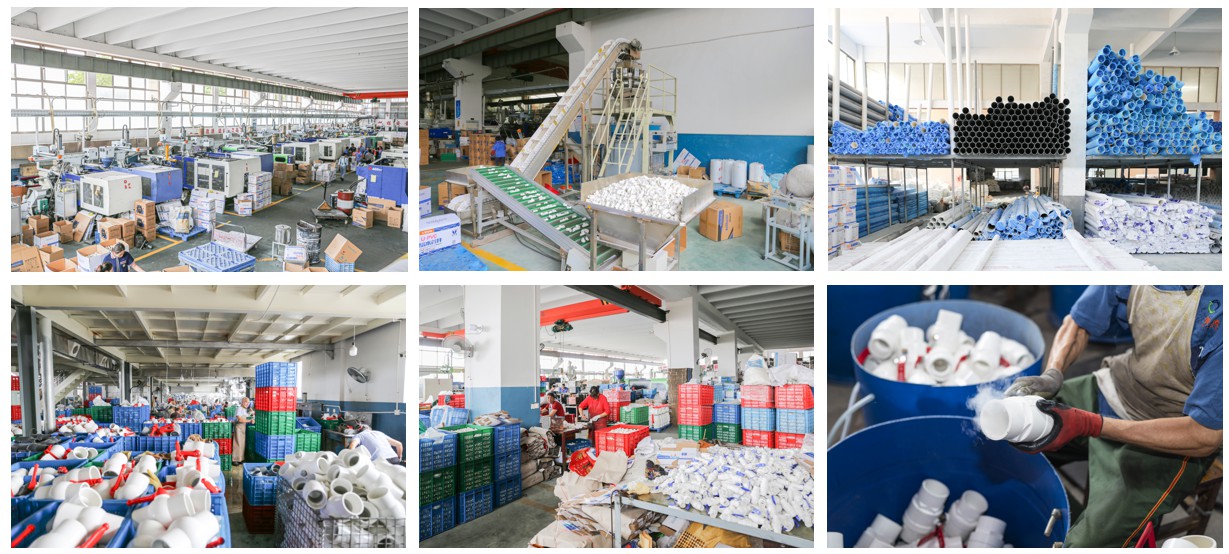 Plastic Valve and Pipe Fittings Factory Video Display
This video provides a glimpse into our plastic valve and plastic pipe fittings factory floor. It offers a visual tour of our facility, showcasing our workers in action and the production process of our products. We extend a warm invitation to visit our factory in China.
Plastic Pipe Fittings Video Display
Plastic Pipe Fitting Series
· PVC DIN Water Supply Fittings
Our DIN standard pipe fittings have excellent quality, acid and alkali resistance, corrosion resistance and long service life. Among them, pn16 pipe fittings are our key products, which are thicker and more durable than ordinary pipe fittings, and can be used in the chemical industry.
It is worth mentioning that this PVC pipe fittings series is our main product. Our cost-effective price plan can well meet your budget!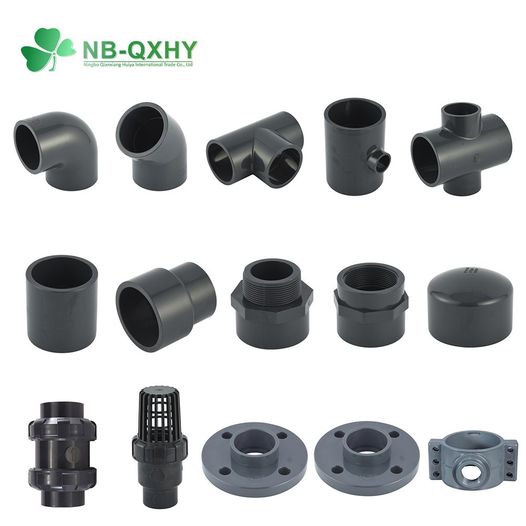 · PVC Schedule40 Fittings
Schedule 40 fittings are one of our flagship products. We have many years of production experience, so the quality of pipe fittings is very stable. For size, we can provide the corresponding size according to your needs. Please contact me and tell me your needs and we will meet you. (email: sales@nbqxhy.com)


· PVC Schedule80 Fittings
Our Schedule80 pipe fittings have thicker walls, pressure can reach PN16, and are made of high-quality environmentally friendly materials, so the products have antibacterial, corrosion resistance, anti-aging, and other characteristics. Besides, our fittings are available in a wide range of sizes and can supply large-size fittings up to 16".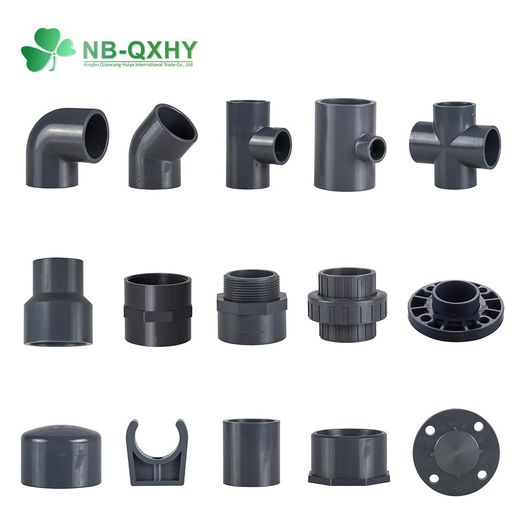 · PVC BSPT Thread Fittings
Our PVC BSPT fittings are available in a full range of sizes and are of consistent quality. Our factory has been supplying excellent plastic valves and pipe fittings all over the world for more than ten years. Welcome to visit our factory at any time.
Good news: This series of PVC pipe fittings is especially popular in the Middle East market and Bangladesh market. Recently, our major customers in Oman and Bangladesh have placed orders, and we are working hard to produce them! (email: sales@nbqxhy.com)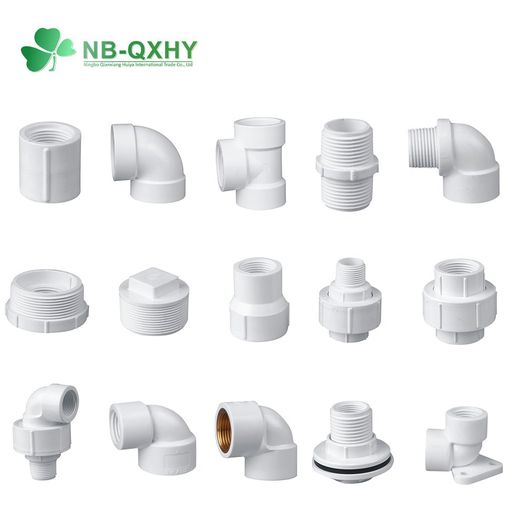 · PVC Drain Fittings
The standards of our PVC drain fittings are: ASTM D2665, NBR5688, GB/T5836, DIN Standard etc. All sizes and specifications are available.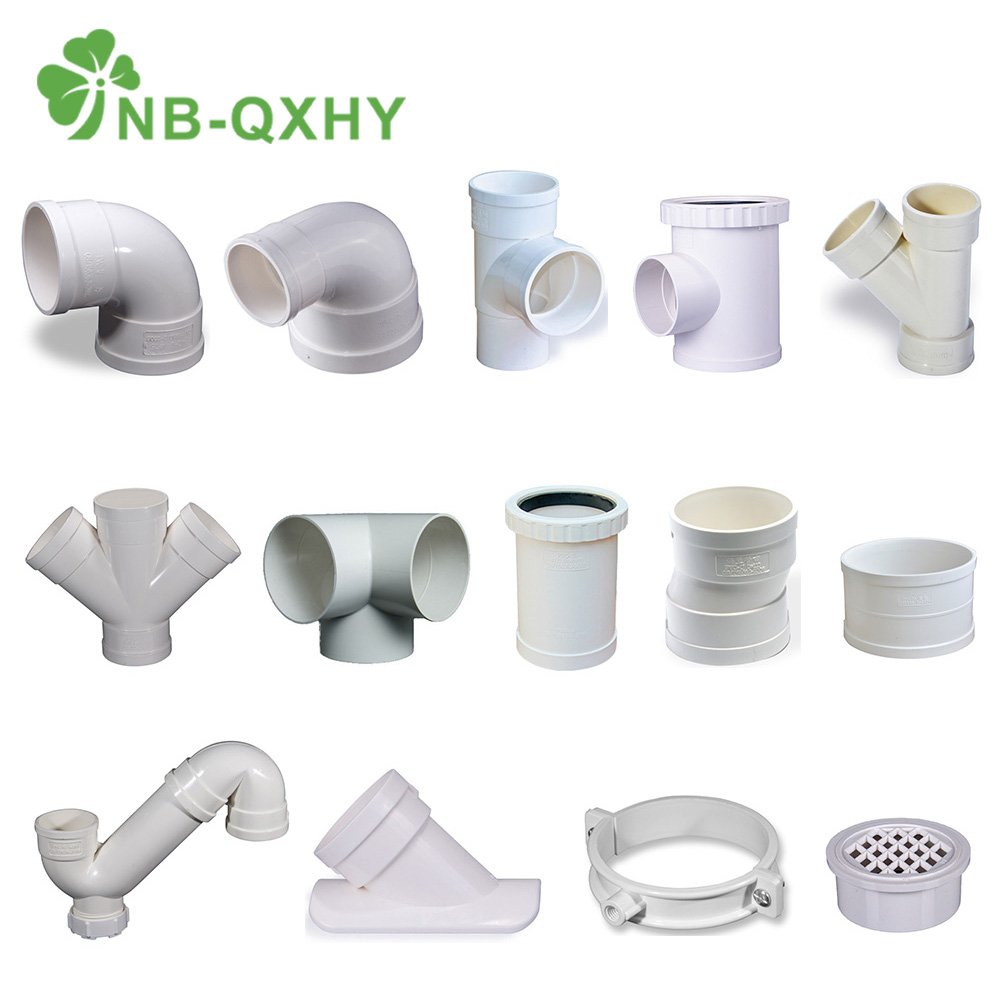 · PP Compression Fittings
The PP compression fittings are made of excellent engineering materials. The products have good sealing performance, high strength, long service life, convenient installation and easy disassembly. Moreover, the specifications of the PP compression fittings are complete, which can meet the needs of different construction sites.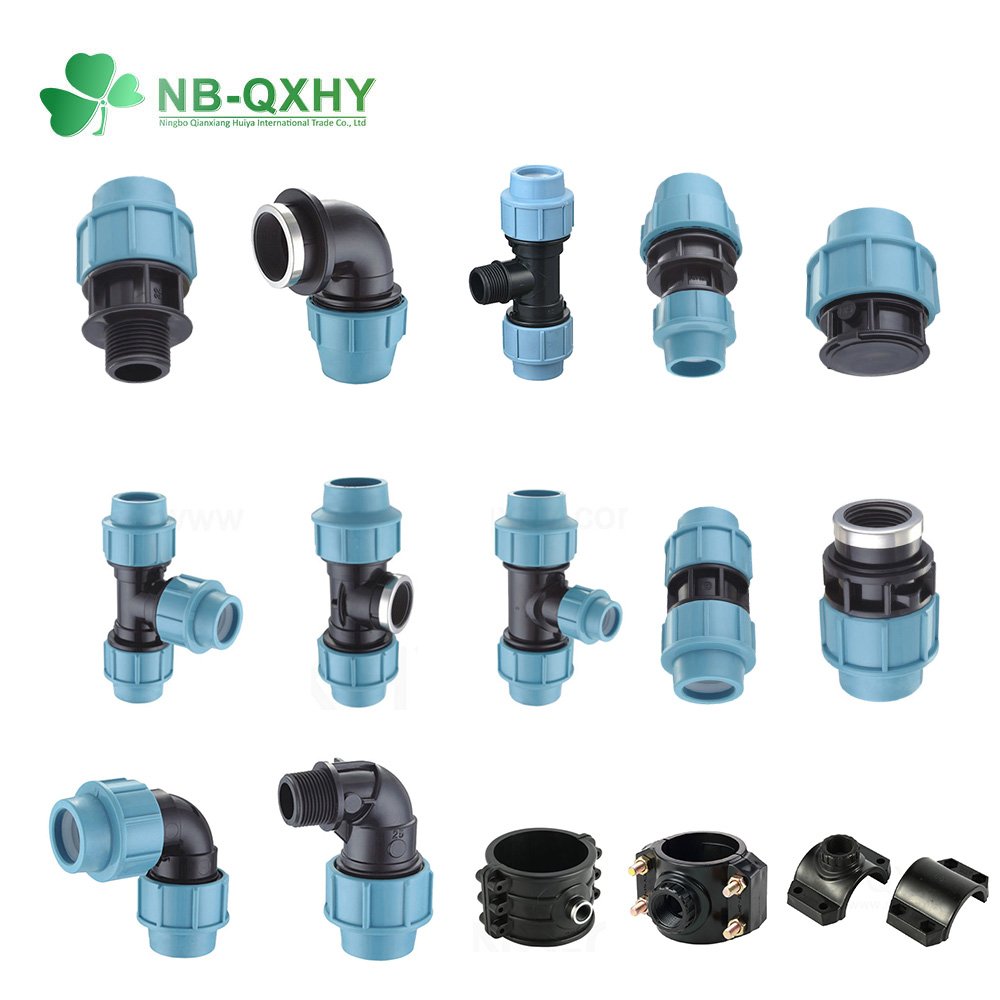 · PPH Pipe Fittings
Our PPH fittings are divided into two grades, one is red-brown ordinary grade, and the other is light yellow industrial grade. Therefore, our PPH pipe fittings can well meet the needs of most customers.
The PPH pipe fittings are resistant to high temperature and corrosion, suitable for the temperature range of -20 - 110℃, and they are widely used in electroplating, etching, chemical, pharmaceutical, sewage treatment, environmental engineering, water supply, and other fields.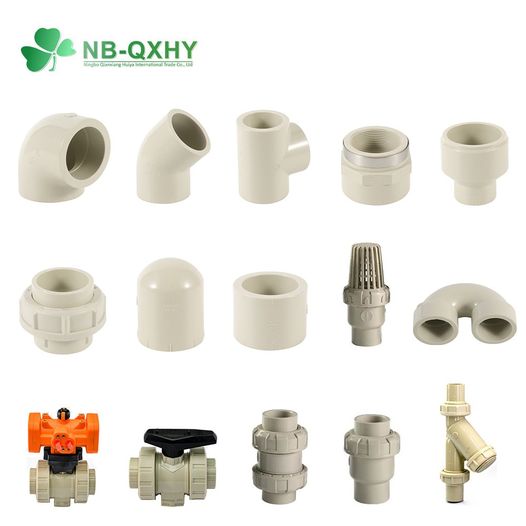 · PPR Pipe Fittings
PPR pipe fittings have good performance, for example, it is not easy to be corroded by chemical media, not easy to rust, not easy to breed bacteria, and can be very suitable for cold and hot water systems. Besides, its inner wall is smooth, lightweight, impact-resistant, and complies with drinking water standards.
PPR pipe fittings are our most advantageous products. For this product, we have no MOQ requirements, even if the quantity you want is small, we can provide it!(email: sales@nbqxhy.com)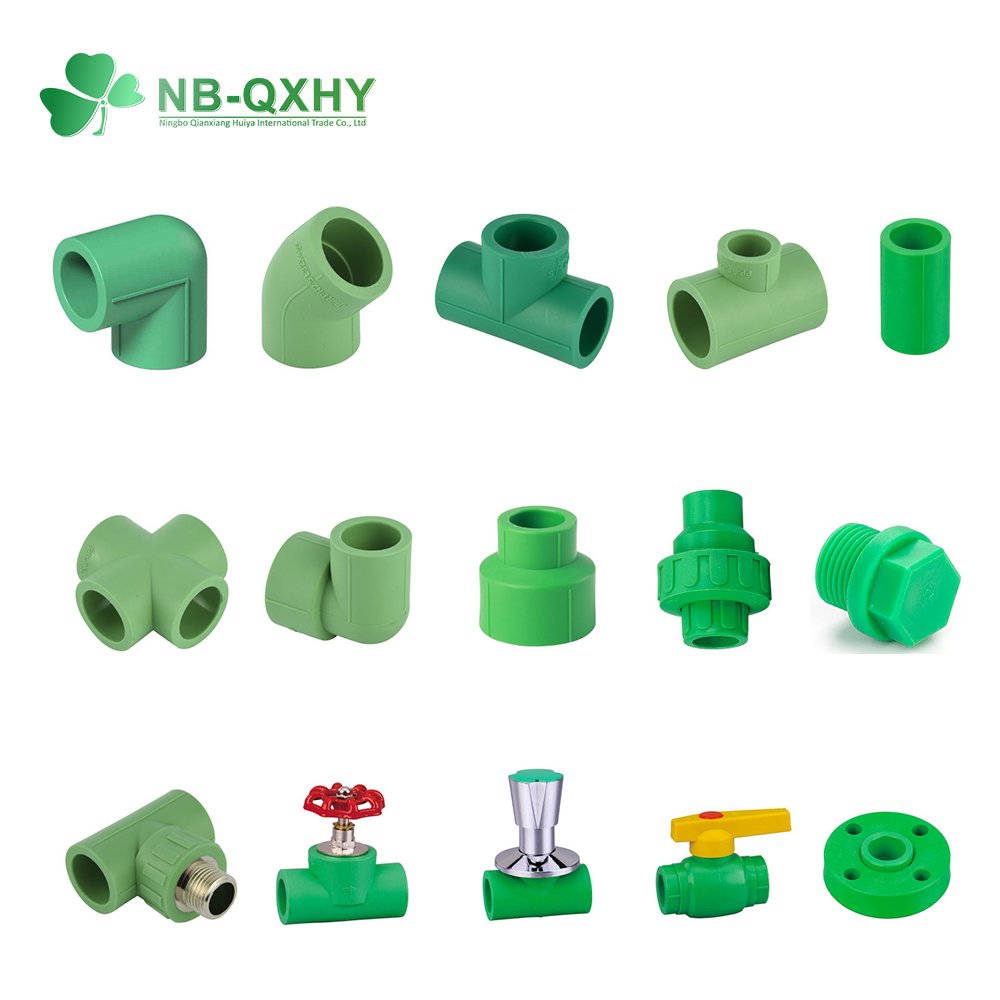 Plastic Pipe Fittings Package
Our PVC pipe packing is very strong, and can effectively avoid the plastic pipe to suffer unnecessary losses. Of course, if you have additional requirements for packing, we will also meet your need.

Plastic Pipe Fittings Application field
The application fields of our plastic pipe fittings are very broad: household water supply/drainage, agricultural irrigation, urban construction, industrial chemical industry, etc. In addition, we have a variety of product quality standards, matching different standards for different fields, which makes our pipes very standardized from production to use.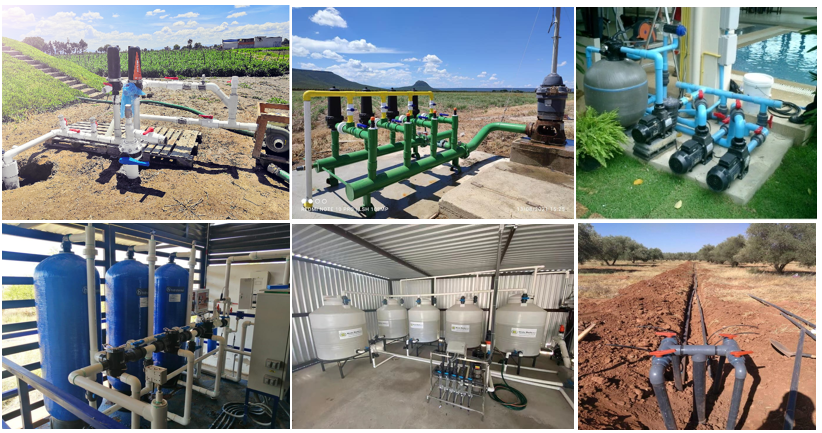 Our Certifications


FAQ
1. Are you a manufacturer or a trading company?
We are the manufacturer and have our own factory.
2. What's your price?
According to the different products, materials, sizes, and even MOQ, our prices are different. Anyway, our price is very competitive. Please contact me if you want to get the latest price list.
3. What product does your company produce?
we mainly manufacture kinds of plastic valve and plastic pipe, plastic fittings. We also developing group irrigation products to support sales. In addition, we will open new mold and customized service according to customers' market needs.
4. Do you accept OEM?
Yes, we accept OEM. We will engrave trademarks, laser print trademarks, and provide color box packaging, color box design, packaging design, pallet service, and product material formulas according to customer needs. The product material formula can also be replaced according to different usage requirements.
5. Can you provide related documents?
Yes, we can provide certificate files if you need them.
6. How long is your lead time?
The range of our lead time is 25-35 days. It depends on your requirement.
7. Do you have a customized service?
Yes, I will customize products according to customer needs.
8. Can I be your distributor?
Yes, we are very glad to cooperate with customers all over the world.
9. Where is your company's address?
Our company is located in the Ningbo Zhejiang Province, China.
10. How can I contact you?
You can send us an email at any time to ask any questions, we will reply to you in the shortest possible time.
Email: sales@nbqxhy.com
Phone: +0574-88209527
WhatsApp/WeChat: +86-18867873336
---------------------------
-Reviewed by: Sky Zhou
-Position: Product Expert of NBQXHY
If you find any discrepancies in the information presented on this page, feel free to send us a message for correction.