DIN UPVC Pipe Fittings Manufacturer
There are two types of our DIN standard water supply UPVC pipe fittings, one is the conventional type, which has a thinner wall thickness and lighter weight, but the price is more advantageous. One is industrial-grade pipe fittings, which have thicker walls and better quality, which can well meet the needs of chemical scenarios. According to different situations, our factory has a variety of products with different prices and types to choose from, which can well cover the needs of most customers. Please tell us your requirements, we can provide product catalog and latest price list.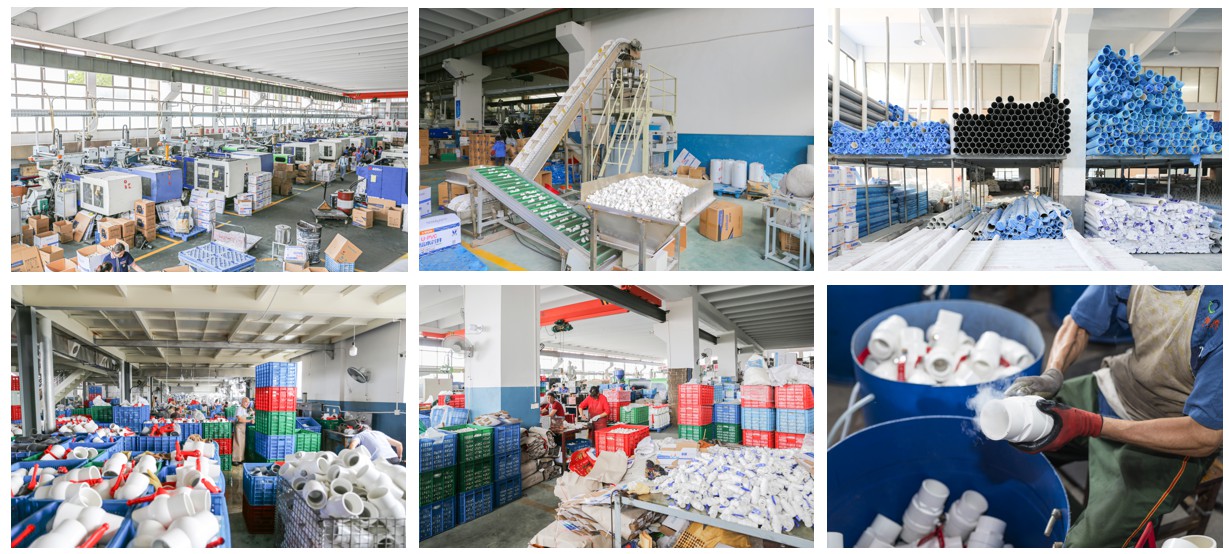 UPVC DIN Pipe Fittings Information
Product Name

DIN Fittings

Color

Grey, White, Blue or Customized

Main Material

UPVC

Pressure

PN10/16

Size

DN15-DN400

Packing

Standard Export Packaging or as Your Request

Main Market

South America, Southeast Asia, Middle East, Africa

Use

Water Supply

Connection

Socket

Origin

Ningbo, Zhejiang, China

Customized Support

OEM, ODM

Port

Ningbo/Shanghai

Technics

Injection

Lead Time

25-35 Days

Certificate

ISO

Sample

Available
UPVC DIN Pipe Fittings Specification

UPVC DIN Pipe Fittings Packaging
Generally speaking, our small-sized pipe fittings are packed in inner bags, and large-sized UPVC pipe fittings are directly packed in outer packaging. At the same time, the outer box is packed in imported three-layer corrugated cardboard boxes, which can effectively avoid damage or collision during product handling and transportation.
In addition, we can print the outer box according to the customer's trademark design to achieve customized packaging.

UPVC DIN Pipe Fittings Market
Our PN10/PN16 UPVC pipe fittings are mainly used in South America, Southeast Asia, Middle East, Africa, and other regions. South America mainly needs dark gray UPVC pipe fittings, Southeast Asia mainly needs blue UPVC pipe fittings with small size and lightweight, the Middle East mainly needs PN16 UPVC pipe fittings, and Africa and Europe mainly need UPVC flexible pipe fittings.
UPVC DIN Pipe Fittings Advantage
PN10/PN16 UPVC pipe fittings can be mainly used in water supply pipeline systems under different working pressures, with the advantages of convenient connection, stable use and environmental protection.
Our Certifications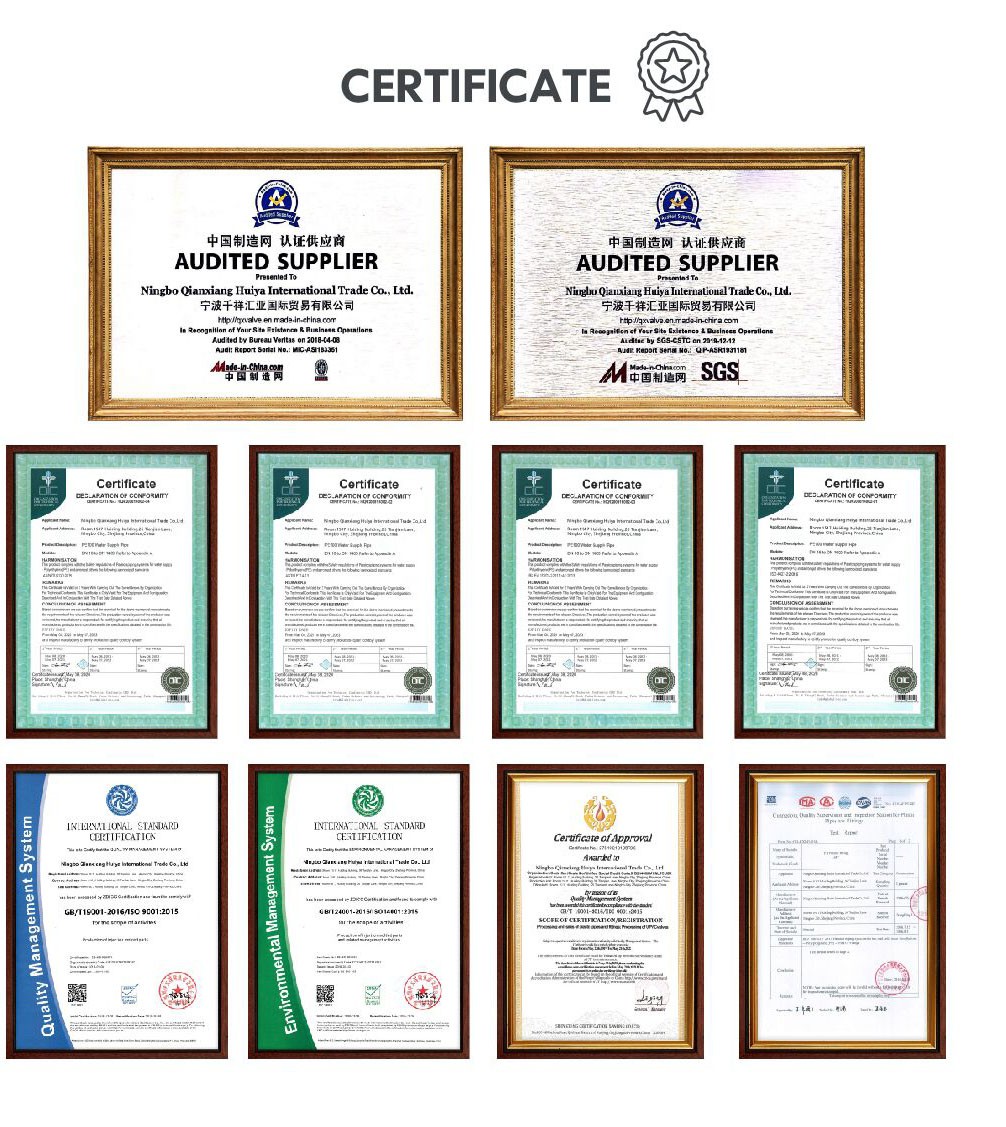 Our Service
1. Our pipe fitting molds are complete, which can meet the needs of customers for pipe fittings of different sizes. At the same time, we can provide samples according to customer requirements, and open the mold to produce pipe fittings of special size or special color.

2. We can carry out laser marking on pipe fittings or marking on molds for customers to help customers expand their brand influence.

3. We give priority to the production of orders for customers, and have a stable delivery time.

4. We have professional product engineers who can solve any product problems you encounter during sales or use at any time.

5. We can produce pipes to be used and sold together with our fittings.

6. Our products are certified by ISO: 9001, SGS, BV, CE and other professional testing organizations.

7. We support free samples to directly check the quality of our products.
FAQ
1. Are you a manufacturer or a trading company?
We are the manufacturer and have our own factory.
2. What's your price?
According to the different products, materials, sizes, and even MOQ, our prices are different. Anyway, our price is very competitive. Please contact me if you want to get the latest price list.
3. Do you accept OEM?
Yes, we accept OEM. We will engrave trademarks, laser print trademarks, and provide color box packaging, color box design, packaging design, pallet service, and product material formulas according to customer needs. The product material formula can also be replaced according to different usage requirements.
4. Do you provide a sample?
We provide samples.
5. Do you have a MOQ?
Yes, 10 boxes each size, or adjust according to the overall order quantity. If you have other questions, don't worry, please email us, we can provide you with the best solution.
6. Can you provide related documents?
Yes, we can provide certificate files if you need them. Of course, you also can download our documents.
7. How long is your lead time?
The range of our lead time is 25-35 days. It depends on your requirement.
8. How about the shipping fees?
We supply express delivery, Air transport, sea shipment to the port, door to door service. We will professionally compare sea freight for the customers to choose. For large quantities of orders, sea freight is the best choice. Please tell me the products and quantity you need, so that we can provide you with the most affordable shipping plan.
9. What payment terms do you accept?
L/C, T/T, Western Union, Paypal are available.

10. Do you have a customized service?
Yes, I will customize products according to customer needs.
We have a lot of customized project cases, please contact me to learn more details.
11. How can I contact you?
Email: sales@nbqxhy.com
WhatsApp/WeChat: +86-18867873336
If you would like to see all the different materials and standards of plastic pipe fittings, please click here!